TENT SWISS COTTAGE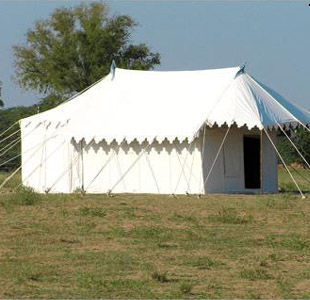 This Tent consist of Fly Outer, Fly Inner, Side wall, Rear Wall & Front Chick Wall alongwith chick Parda.
All Flies composed of three Folds of Cloth throughout as per following serials:-
(1) Bleached Drill outside
(2) Blue Sheeting Thereafter.
(3) Buff Sheeting on Inner side.
In case of Flies Inner, printed Buff Sheeting shall appear inside the main room.
The Tent shall be of the double Fly type and shall be provided with a bathroom at the back, A verandah in front covered with Chick Kanat.
In size of Tent shall be 12'X12' (Inner Room) & Height of Tent shall be 13" at both the end. & length of Ridge or length of eve shall be 12'. The height of Inner Fly shall be 11.5'. Height of front/ rear wall shall be 6'. By Puting the rear wall it makes 9' Bathroom on rear side.
Inside the Inner Fly a Pocket & Cotton Cord has been Provided for Hanging the Clothes. Chick Parda has been provided on out Gate of Tents.
Cotton Ropes have been provided at all Corner, side. Guy ropes for full tightend & pitching this Tent.
This these type of Tent are generally used for accommodation cum official purposes.