TENT ARCTIC SMALL MK-II

• This type of Tent was first developed in the 1940s for protection in cold weather conditions.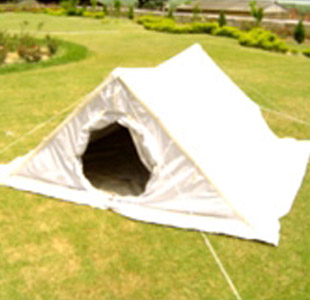 •  GBPL have fabricated this tent, keeping in view to accommodate Two Man utilized for cold /hot conditions.
•  This Tent consists of Fly outer, Inner & Ground Sheet. Fly outer is made from Cloth Fabric Cotton Closely Woven 170 grms dual shade W.R.. This has one door & three windows. This fly is reversible & can be used in snow white areas at high altitude as well as Green Vegetation terrains. Liner inner is made from cotton fabric for supply dropping Parachute scoured Type 1. Liner inner is attached to the fly outer with the help of typing tapes. Ground sheet is made from Fabric rubberized for Tent flooring. Eyelets Aluminum Alloy No. 24 are clinched at equal distance at periphery. In addition the following components are provided for pitching of the Tents.
•  Pole side (Aluminum Alloy)- 2nos.
•  Pole standing (Aluminum Alloy) -1 nos.
DESIGN FEATURES
• Good Camouflaging for cold & hot climate .
• Guy Ropes are provided at the front and rear sides.
• Additional side ropes for improved stability in high winds.
• Sewn Rubberized Ground Sheet for protection from dampness.
• Complete TENT is pitched on aluminum structure for extended life of tent.
• Fly made of olive green Duck Cotton on one side and white on the other, for camouflage    under varying conditions.

SALIENT FEATURES
•  Excellent for both hot/ cold climates.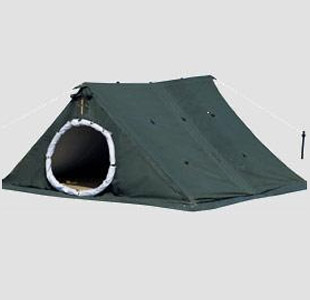 •  Reversible Fly for camouflage under varying conditions.
•  Ideal for backpackers due to Light weight.
•  Easy mobility.
•  Good resale value for aluminum structure.
•  During Hot Climate Inner Fly (Air Resistant may be removed)
•  Windows for fresh air & ventilator.
•  Modular Design.
•  Extended life of aluminum structure.
SPARES AND ACCESSORIES
•  Fly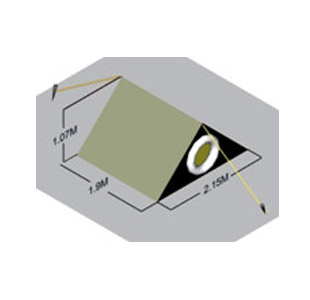 •  Metal/ Wooden Pegs
•  Metal/ Wooden Poles
•  Guy Ropes
•  Rubberized Ground Sheet

MATERIALS
| | | |
| --- | --- | --- |
| Layer | Material Used | Features |
| Fly | Duck Cotton & Very light weight cotton cloth | Water Resistant & Air Resistant |
CAPACITY & DIMENSIONS
| | | | | | | | | |
| --- | --- | --- | --- | --- | --- | --- | --- | --- |
| Plinth Area | Pitching Area | No. of Person | Length | Width | Tent Height | Effective Height | Doors | Tent Weight |
| in mtrs. | in mtrs. | | in mtrs. | in mtrs. | in mtrs. | in mtrs. | | in kg. |
| 2.135 x 1.905 | 5 x 3 | 2 | 1.9 | 2.10 | 1.05 | 0.99 | Single | 7.5 |